Etcetera-design at DEL MUSEO 900 IN MILAN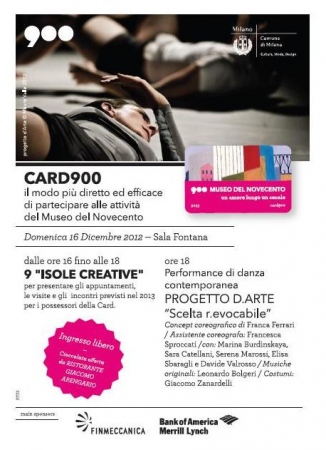 CARD900- Presentation of Activities for 2013
Sunday, December 16, 2012 from 4 pm to 7 pm
Sala Fontana Presentation of the CARD9000 activities for 2013: Ten Authors from the 1900th century - Guided theme tours. With Your Words DJ set and artists from the Museum by Compl8 Produzioni Inspirational Fontana ? Video art workshop held by Claudio Sinatti Effetto Venturi ? Artist's seminary in collaboration with Peephole How do you say Modern Masters? - Art history lessons in English at the Parlons d'art au Mus ?e ? Art meetings in French by the Centre Culturel Art Blogger Attack! - Write about art in collaboration with the Holden YogaArte School ? Ashtanga yoga course during the lunch. The space of art, the tempo of music. Musical performance by MiMuSa, Musical creativity courses and Sunday concerts ? by Divertimento Ensemble - Ceramics laboratory by Fausto Salvi Associazione Bruno Munari ? The Bruno Munari Laboratories (for adults and children)
VINTAGE MARKET - BOLOGNA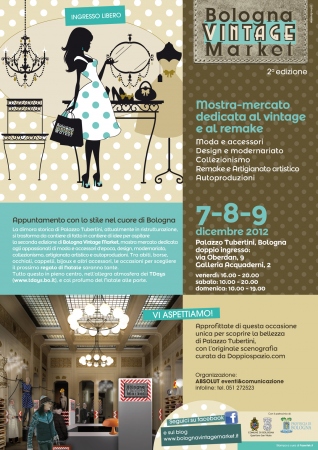 Vintage and remade fashion and accessories Flea Market - Design and Vintage Collections ? Remade and Artistic Craftsmen ? Self Productions, December 7 to 9, 2012 - Palazzo Tubertini; two entries: via Oberdan, 9 - Galleria Acquaderni, 2 - Bologna
ERA CARTA TRA ARTE E DESIGN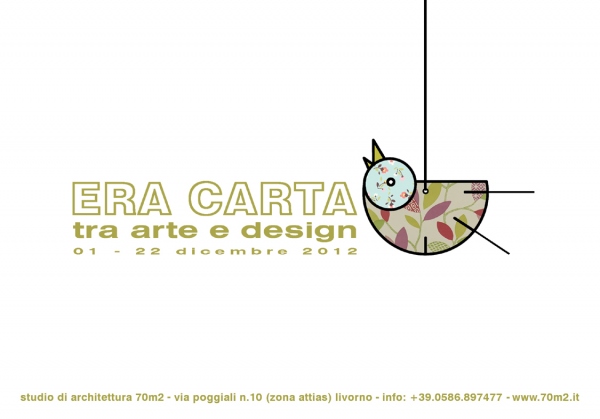 ETCETERA-DESIGN AT "ERA CARTA TRA ARTE E DESIGN"
The growing attention given to defending the environment has lead to greater interest in renewable, eco-compatible materials, with limited environmental impact and able to promote sustainable development. Paper and cardboard, versatile recyclable materials, are the beginning for the creations in the show at the 70 m2 architectural studio in Livorno, expressing the creativity of the artist and designers who, in addition to having significant culture based on the respect for natural resources.
ERA CARTA shares many different interpretations of cellulose based materials, converted using traditional techniques that return to the roots (paper mache and quilling) or that use the new industrial design technologies to add life to products of mass production. Three topics will be addressed: Paper as a precious, flexible, light-weight raw material that can be converted into unique pieces; the production of design objects made from paper through the use of new processing techniques; and paper objects transformed into unique surprising creations.
From the work of art to the work of design, from the craftsman?s product to furnishings, from accessories to children?s games, all within a stand made by the Studio, 70m2, where PAPER is once again the absolute star.
A full calendar of laboratory topics for children and adults offer interesting points for reflection, to learn, play, have fun, and invent using paper.
WHEN AND WHERE
Timing: from December 1 to 22, 2012
Location: Livorno
Office: Studio di Architettura 70m2
Address: Via Poggiali, 10
Opening: Saturday, December 1, 6 pm
Open hours: From Mon to Fri 9:30 am to 1 pm / 4 pm to 7:30 pm | Sat 4 pm to 8 pm| Closed Sunday
Info: t/f +39 0586 897477 | www.70m2.it | info@70m2.it
Free entry to show