ETCETERA DESIGN in Milan for POSTNATURAL.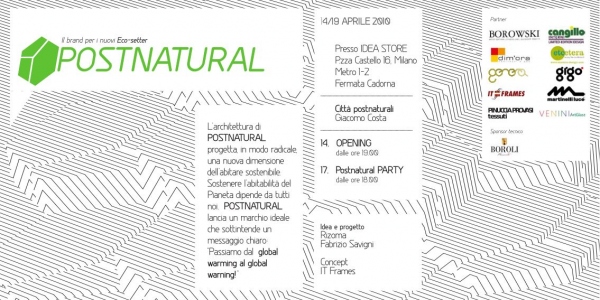 POSTNATURAL offers a impressive stimulating alternative for the presentation of brands and products, providing an open, functional showcase of great appeal, and above all new.
Showcase-event proposes the launch of non-existent brand POSTNATURAL, a brand that identifies these products, designed in green, that suggest a new
Idea of consumerism, design, and everyday use.

Etcetera Design has decided to take part of this project during the FuoriSalone del Mobile 2010.

The temporary showcase will be at:
IDEA STORE in Piazza Castello 16, from April 14 to 19, 2010 from 11.00 a.m. to 8.00 p.m.

Inauguration party: Wednesday; April 14 from 7.00 p.m.
"Special Party": Saturday, April 17, 2010 from 6.00 p.m.